Grooming
To avoid Daycare fee (Half day or Full Day rate), please pick up within 1 hour of Groom completion.
The following are base prices. Prices vary based on dog's breed. *Prices are subject to change without notice.



EXIT BATH

*

BATH PLUS

**

FULL GROOM

***
Prices starting at…
$20
$25+
$45+
| | |
| --- | --- |
| Spa Upgrade | $10 |
| Teethbrushing | $10 |
| 'Pet'icure- Nail Trim | $12 |
| 'Pet'icure- Nail Trim & Buff | $15 |
| Anal Glands | $10 |
| Ear Cleaning | $6 |
| Blueberry Facial  | $10 |
| Deshed (short, long, double coat) | $15+ |
| Massage | $10/10 min |
| Nail Polish | $6 |



*Flea Policy – We strongly suggest all furry guests be on a reputable flea preventative. Upon flea discovery, Capstar & a Flea bath will be given at owner's expense.
~Ask about Hair Color; Stencils; Mohawks; Feather Extensions!~

*EXIT BATH – A basic bath to send your pooch home fresh and clean (for boarding/daycare guests only). Double/Full coated breeds are additional. Price determined by groomer.
**BATH PLUS – Includes shampoo/conditioner; ears; nail trim; anal glands (if needed); sanitary trim; hand dry & fluff.
***FULL GROOM – Includes all of the above PLUS a custom cut and style.
(cologne/perfume, bows and/or bandana are included in all bath plus and full groom services unless customer specifies otherwise)
*Additional fees may apply for matting; deshedding; flea treatment and/or special handling.
Individual consultations with your dog's groomer is always recommended.
Proof of vaccinations are required in advance.
Rabies, Distemper/Parvo & Bordetella

    We are proud to offer
South Bark's Blueberry Facial

OUR GROOMERS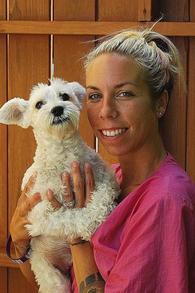 Nikohl Spencer
Pet Stylist
Nikohl, our Senior Groomer, has been showcasing her attention to detail and unique artistic flair at K9cabana for almost two years. Her love of animals began sixteen years ago as a kennel technician, and then after being inspired by her mother, who is also a groomer, Nikohl delved into grooming for the following five years. She found that her specialty lied in Poodles and Shih Tzus, but she can groom any dog breed and size with the utmost professionalism and skill. When not grooming, Nikohl loves to spend time with her husband and three beautiful boys, laying out at the beach, and traveling back home to visit family in Michigan.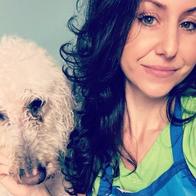 Danielle Guyton
Pet Stylist
Danielle has been using a combination of her artistic abilities and life long love of animals to skillfully groom dogs for the last 16 years . From the time she was a little girl she has had a special connection with dogs which has enhanced her ability to groom all breeds with the highest of skill and quality. She grew up in NY but has lived in PA, NC, Europe and the Caribbean before settling in Myrtle Beach. When she's not spending time with her family ,friends and menagerie of pets ,she loves great food, Baseball and spending time traveling.